Guidance Concept for Convicts in Penitentiary as Legal Means to Minimize Narcotics Abuse
Keywords:
Guidance, Prisoners and Narcotics
Abstract
Almost fifty percent of the prison population is prisoners of narcotics, this situation is very worrying for the occurrence of drug abuse in prison. Overcrowding greatly affects the process of coaching prisoners, so it is likely that the expected goal of punishment will not be achieved. The nature of the type of research is normative juridical. The concept of coaching carried out to prisoners in prison is guided by Article 34 to Article 46 of Corrections Law No. 22 of 2022. The mentoring program for prisoners of drug abuse is carried out including personality coaching and independence coaching. Efforts to minimize the abuse of narcotics in prison are guided by Permenkumham No. 6 of 2013 relating to the Code of Conduct for Correctional Institutions and Detention Centers. Based on these regulations, efforts to minimize drug abuse in prisons are carried out with preventive and repressive actions. The obstacles faced by prisons in minimizing drug abuse in prisons include the unavailability of experts, obstacles from the community and the lack of infrastructure and facilities in carrying out the process of coaching prisoners.
Downloads
Download data is not yet available.
References
Abdullah, Rahmat Hi. "Urgensi Penggolongan Narapidana Dalam Lembaga Pemasyarakatan." FIAT JUSTISIA:Jurnal Ilmu Hukum 9, no. 1 (2016): 49–60. https://doi.org/10.25041/fiatjustisia.v9no1.587.
Aditya, Nicholas Ryan. "50 Persen Penghuni Lapas Napi Narkotika, Menkumham Nilai Janggal Dan Aneh." Kompas, September 15, 2021. https://nasional.kompas.com/read/2021/09/15/21242611/50-persen-penghuni-lapas-napi-narkotika-menkumham-nilai-janggal-dan-aneh.
Ardilla, Fauziya, and Ike Herdiana. "Penerimaan Diri Pada Narapidana Wanita." Fakultas Psikologi, Universitas Airlangga, Surabaya 2, no. 01 (2013).
Atmasasmita, Romli. Sistem Peradilan Pidana Kontemporer. Ed. 1, Cet. Jakarta: Kencana, 2010.
Dewantoro. "BNN Sumut Bongkar Jaringan Narkoba Internasional Yang Dikendalikan Napi Dari Dalam Lapas Tanjung Gusta." Kompas. Com, April 26, 2019. https://regional.kompas.com/read/2019/04/26/18490051/bnn-sumut-bongkar-jaringan-narkoba-internasional-yang-dikendalikan-napi-dari?page.
DR. Hj. Tina Asmarawati, S.H., M.H. Pidana Dan Pemidanaan Dalam Sistem Hukum Di Indonesia (Hukum Penintesier). Cetakan pe. Yogyakarta: Deepublish, 2015.
Effendi, Tolib. Sistem Peradilan Pidana : Perbandingan Komponen Dan Proses Sistem Peradilan Pidana Di Beberapa Negara. Edited by Tim Pustaka Yustisia. Yogyakarta: Penerbit Pustaka Yustisia, 2013.
Hiarie, Eddy O.S. Prinsip-Prinsip Hukum Pidana. Ed. rev.,. Yogyakarta: Cahaya Atma Pustaka, 2016.
Muhammadong, Abdul Hadis, and Eva Meizara Puspita Dewi. "Implementasi Model Pembinaan Berbasis Terapi Agama Di Rutan Kelas 1 Makassar." Seminar Nasional LP2M UNM 2, no. 1 (2017): 622–24. https://ojs.unm.ac.id/semnaslemlit/article/view/4110.
Ibrahim Nainggolan. "Lembaga Pemasyarakatan Dalam Menjalankan Rehabilitasi Terhadap Narapidana Narkotika." EduTech: Jurnal Ilmu Pendidikan Dan Ilmu Sosial 5, no. 2 (2019): 136–49. https://doi.org/10.30596/edutech.v5i2.3388.
Of, President, T H E Republic, O F Indonesia, Authorized Translation, T H E President, O F The, and Republic Of. "LAW OF THE REPUBLIC OF INDONESIA NUMBER 35 OF 2009 REGARDING NARCOTICS BY THE MERCY OF THE ONE SUPREME GOD THE PRESIDENT OF THE REPUBLIC OF INDONESIA ," 2009, 1–126.
Prof. Dr. H. Edi Setiadi, S.H., M.H. Kristian, S.H., M.Hum ; editor, Dr. Dini Dewi Heniarti, S.H., M.H. Sistem Peradilan Pidana Terpadu Dan Sistem Penegakan Hukum Di Indonesia. Edited by M.H. Dini Dewi Heniarti, S.H. Edisi Pert. Jakarta: Prenadamedia Group, 2017. https://opac.perpusnas.go.id/DetailOpac.aspx?id=1053837.
Reksodiputro, Mardjono. Sistem Peradilan Pidana Indonesia : Melihat Kepada Kejahatan Dan Penegak Hukum Dalam Batas-Batas Toleransi. Pidato pengukuhan diucapkan pada : upacara penerimaan jabatan sebagai guru besar tetap dalam ilmu hukum pada Fakultas Hukum Universitas Indonesia di Jakarta pada tanggal 30 Oktober 1993: Universitas Indonesia Fakultas Hukum, 1993.
Rizaty, Monavia Ayu. "Penghuni Penjara Membludak, Ini Jumlah Narapidana Di Indonesia." Databoks, May 12, 2022. https://databoks.katadata.co.id/datapublish/2022/05/12/penghuni-penjara-membludak-ini-jumlah-narapidana-di-indonesia.
Santosa, Bayu Marhaenjati; Dwi Argo. "Penyalahgunaan Narkotika Di Indonesia Meningkat 0,15 %." Berita Satu, December 15, 2021. https://www.beritasatu.com/nasional/867389/penyalahgunaan-narkotika-di-indonesia-meningkat-015-.
Saputra, Ferdy. "Peranan Lembaga Pemasyarakatan Dalam Proses Penegakan Hukum Pidana Dihubungkan Dengan Tujuan Pemidanaan." REUSAM: Jurnal Ilmu Hukum 8, no. 1 (2020): 1. https://doi.org/10.29103/reusam.v8i1.2604.
Steiner, Benjamin, and John Wooldredge. "Prison Officer Legitimacy, Their Exercise of Power, and Inmate Rule Breaking*." Criminology 56, no. 4 (2018): 750–79. https://doi.org/10.1111/1745-9125.12191.
Sudarto. Kapita Selekta Hukum Pidana. Bandung: Alumni, 1981.
Taggart, John. "Intermediaries in the Criminal Justice System and the 'Neutrality Paradox.'" Journal of Law and Society 49, no. 2 (2022): 339–61. https://doi.org/10.1111/jols.12361.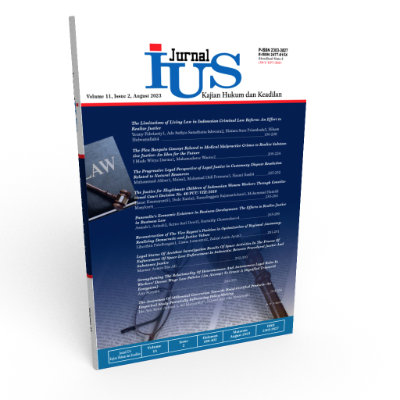 How to Cite
Manullang, H., Esther, J., & Jusnizar. (2023). Guidance Concept for Convicts in Penitentiary as Legal Means to Minimize Narcotics Abuse. Jurnal IUS Kajian Hukum Dan Keadilan, 11(2). https://doi.org/10.29303/ius.v11i2.1173
Copyright & Licensing
Copyright (c) 2023 Herlina Manullang, July Esther, Jusnizar
This work is licensed under a Creative Commons Attribution-ShareAlike 4.0 International License.
The authors hold the copyright. Authors retain copyright and grant the journal right of first publication with the work simultaneously licensed under a 
Creative Commons Attribution-ShareAlike 4.0 International License
.
that allows others to share the work with an acknowledgement of the work's authorship and initial publication in this journal. How ever the author should affirming that the article is their original work should accompany the article via online submission form. Authors are permitted to share a Preprint of their article anywhere at any time. Link
Declaration of originality (PDF)