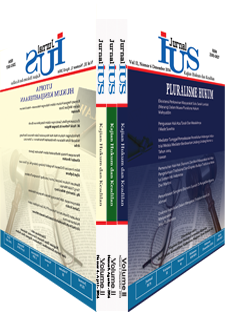 Jurnal IUS is published by Magister of Law, Mataram University. Jurnal IUS established December 2012, is an institution that focuses on journal development for post graduate students and all law activists in general and specialized topics. Journal IUS published three times a year in April, August, and December. This journal provides immediate open access to its content on the principle that making research freely available to the public supports a greater global exchange of knowledge
The aims of this journal is to provide a venue for academicians, researchers, and practitioners for publishing the original research articles or review articles. The scope of the articles published in this journal deals with a broad range of topics in the fields of Criminal Law, Civil Law, International Law, Constitutional Law, Administrative Law, Islamic Law, Economic Law, Medical Law, Adat Law, Environmental Law and another section related contemporary issues in law.
Jurnal IUS was founded by a group of young lecturers who had a passion to spread their ideas, thoughts and expertise concerning law. Jurnal IUS focuses on publishing research about law reviews from law students, lecturers and other activists on various topics. As an academic center, we organize regular discussions around various selected topics twice a month.
Topics of interest: the battle of legal paradigm, legal pluralism and law and power
If you would like to know more about the Jurnal IUS Kajian Hukum dan Keadilan please contact us.
Announcements
No announcements have been published.
Vol 5, No 2 (2017)